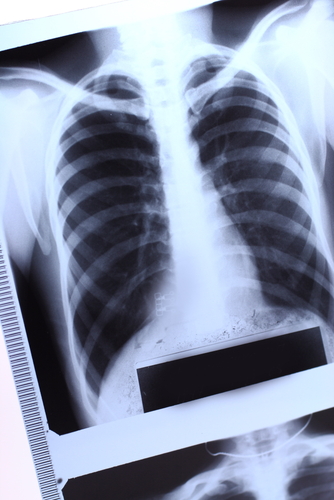 Who even gets tuberculosis any more, besides characters in Emily Bronte novels?
Apparently, babysitters who spend the majority of their day breathing all over my kid. That's who.
It was January of 2009 and Tenzin was sick with that flu everyone seemed to have. She had missed a few days of work, and had a startling cough of the lingering variety.  It was the icy morning of Obama's inauguration and I had a 10 a.m. job. I sat at the kitchen table in my coat with my 2-year-old daughter Z, drumming my fingers and waiting for Tenzin to walk in the door. The phone rang at 9:20 a.m. Her voice was thin and she sounded like she had been crying. She had collapsed on the subway and couldn't move her legs.
I knew she had been putting off dealing with how sick she was, hoping it would just go away because she didn't have health insurance. But hearing her voice at that moment, I must have known something was really wrong and that it was no longer acceptable to rely on her to take care of herself. I called an ambulance and headed over to the subway station near our house in Brooklyn. I found her on a bench inside the turnstiles, sitting with a cop. I remember I deliberately tried to avoid having her breathe on me.
We spoke later that day. She had spent it in the ER waiting for doctors to tend to her. She was given a head x-ray, some blood work for who knows what, and several other tests.  They found nothing, disregarding that death rattle-cough, and gave her a piece of paper that encouraged her to rest and to follow up with a doctor in several weeks. We decided together that she should take the rest of the week off.
Back at work, Tenzin still wasn't feeling better. She had lost weight on an already tiny frame, and seemed exhausted and worried. So on a Monday, two weeks after she collapsed, she went to the hospital as instructed to follow up on her care. We were taking a few days of vacation and I texted her to see how it was going. They had admitted her to the hospital, she said, which I thought was strange. Hospital beds are not easy to come by in a country where women are kicked to the curb days after giving birth. They certainly don't give them to the uninsured – unless it's serious. Or contagious.
Unless.
The following day we got another text. In her broken English she texted: "The doctor thinks is 85 person (sic) tuberculosis."
I went immediately to Google, and found this:
Tuberculosis is a bacterial infection that is spread through the air when people who have the disease cough, sneeze, or spit.  People who breathe TB bacteria into their lungs can become infected; close contact for a long period of time is usually necessary for TB to be spread. Most of these cases will not develop the full-blown disease; asymptomatic, latent infection is most common. But, about one in ten of these latent infections will eventually progress to active disease, which, if left untreated, kills more than half of its victims.
The hours between when we found out Tenzin's status and then our own were the most fraught, stressful moments I can recall since Z was born. Who could be more intimate, more of a "close contact," than a fulltime babysitter to a baby? I couldn't stop picturing Z on a respirator.
After a frightening flight home from our vacation, during which we were unsure whether we could be infecting others, I went straight to the hospital to see Tenzin and get some answers about what we should do. It was challenging to get information about her status as a patient, mostly because she was not a blood relative, but also because her case had become a public health situation to be managed by a New York City Department of Health caseworker.  There were privacy issues involved, I was told by several emotionless nurses, as my frustration mounted.
Eventually I located a compassionate intern who seemed to understand my daughter's intimate relationship to Tenzin and that it was important to understand the severity of her diagnosis in a timely manner. The awkward, red-headed, young doctor took me to her room, which was under extreme isolation for airborne diseases. I put on a mask and went in.  I've never seen anyone look more ill.  She was shockingly thin and her skin was an unbelievable shade of yellow.  Her cheeks were bony to the point of skeletal.  With a strange, inappropriate half laugh, the doctor said, "Go ahead Tenzin, tell her what you have." In a tiny voice, she gulped "I have active TB."
During this confusing time of information gathering, our own physicians and pediatrician were of little help, mostly because it's extremely unusual for anyone in our community to contract TB. The disease can usually be traced in origin to other countries, where people develop the latent disease and years later bring it into a active "cluster," like the one in Tenzin's community in Queens. There were only 895 reported cases of TB in New York City in 2008 and seven of those were children. While medication is an effective option for some people, many of these cases have become resistant to the drugs they use to treat the disease, complicating the danger of spreading.

By a strange stroke of luck, a dear friend of mine happened to work at the time for the Department of Health TB Division, where they had expertise dealing with this situation, but not so much with little people patients. But she and her colleagues were able to guide us, and we were tested that same afternoon after finding out Tenzin was positive.  We got the results a few days later, and all turned out to be negative for the latent disease.  However, there is a two-month incubation period for TB, so we couldn't be sure whether we had been infected until the second test eight weeks later. And because of the weakness of a child's immune system, Z would have to take the medication prescribed for TB preventively. That meant chasing her around with spiked apple juice for the next two months.
All the people who Tenzin had been in close contact with had to be notified, tested and in some cases medicated, including the children, parents, and babysitters in Z's classes and  playgroups. I was forced to navigate a tricky path, intersecting the NYC Department of Health, the "worried well" parents in my Brooklyn neighborhood, the private and passive personality of the Tibetan culture, plus my own conflicted relationship with Tenzin. Calling up those preschool directors and telling parents and babysitters that they may have been infected was not an easy thing to do.  Most people were supportive and grateful for the way I handled the situation – at this point I had almost become a de facto Department of Health caseworker myself.  Several parents were angry and panicked, but ultimately, no one was infected.
Tenzin spent five weeks in the hospital in isolation, and an additional five weeks confined to her home. For the next seven months, she took drugs every day, and each week was visited by a caseworker to have her lungs examined. She was unable to work for that entire nine months, as she continued to be contagious until she completed the treatment. We talked at the time, every few weeks, mostly by text message, but it was hard to know what to say. I would tell her about what Z had been doing, how she was talking about pirate treasure, how she had a haircut, was wearing new pink Converse sneakers. I did not tell her that Z had not asked where she was, or if she was coming back to us.
In early April we got the results of our second test and found we were TB free. In May, we hired a new babysitter.  It felt terrible not to wait for Tenzin to recover, but I needed stability for my daughter and to get back to work with confidence in her care. I was discouraged by the communication breakdown that had led to such a dramatic situation.  Tenzin's judgment in dealing with her own health – tragic because her choices were so limited – made me question her fitness as a caregiver.
Today Tenzin is healthy and working for another family. We have recently gotten back in touch and it relieved me greatly to hear she is well. Z has a little brother now, and as I watch them together, spinning in circles and vamping to "The Fresh Beat Band," I am filled with love, pride and fear that around the corner lurks another danger I can barely fathom.
We try and protect our children from the dangerous world. We buy organic peanut butter and expensive car seats. But we are thwarted in an instant by an errant germ, borne by a hard-working woman who has come to this country and been undone been by an impenetrable health care system. As parents, our illusions of control – our attempts to master a messy and terrifying world with money and gadgets and Purell – are just that.